IPVanish is a great choice based on the speed and reliability of the service. As you'll learn in our IPVanish review, the VPN company offer access to a top tier network. This means that the IPVanish team manage their own VPN servers. This allows them to offer fast, encrypted access with full control over their logs.  This is the only way to ensure a zero log environment. As a member you can feel safe knowing that IPVanish isn't logging your activities. That isn't the case with most VPN providers.
Company Background
The IPVanish team has over 15 years of experience managing large networks. In fact they work with some of the largest online gaming and streaming media services to help them deliver content around the world via their network. This puts them in a unique position to provide fast, reliable VPN service at a very reasonable price. Members have unlimited access to their network of VPN servers. Connect using their custom client software for Windows and Mac. They also have mobile apps for iOS and Android.
Pricing & VPNSP Discount
IPVanish offers one simple plan that includes unlimited VPN access. You can connect an unlimited number of devices simultaneously. That will help you protect your laptop and mobile device while traveling. The retail price is fair but our discount is even better. Save over 75% off with our IPVanish VPNSP special.
I'm excited to share an exclusive special IPVanish is offering to our guests. As a VPNSP guest you can save 75% off all terms. Save over 75% off when you stack our coupon on top of their current term discounts. Enjoy a two full years of VPN from just $2.96 a month. Visit our IPVanish VPNSP Special page to sign up. You will clearly see the discounted pricing as shown above.
Sign Up Process & Payment Options
Singing up for IPVanish is a simple, one step process. You start by selecting a username and password. The password must be at least 6 characters and is case sensitive. I recommend a longer password with upper and lower case letters, numbers and a special character. You will then enter and confirm your email address. IPVanish will use this address to send a welcome email and communicate if you have support questions.
The payment information is on the same screen. You can pay for IPVanish using a credit card (Visa, MasterCard, American Express, Discover), PayPal, Worldpay or Bitcoin. IPVanish accounts auto-renew at the end of your billing cycle. You can cancel anytime by signing into their client control panel.
IPVanish Free Trial
The IPVanish team offers a 30 day money back guarantee. You can test their VPN network risk-free for a week. If you have any issues or decide that you do not wish to keep the service simply log in and cancel your account. There are not any limitations to the guarantee so you don't have to worry about going over any usage or connection limits.
Key Features of the Service
There are a number of features that helped IPVanish earn our Editors Choice Award for the best VPN service. Here are a few highlights:
Top tier network – managing their own VPN servers gives IPVanish full control over their hardware.
No logs – IPVanish doesn't log members usage.
Fast connections – the IPVanish network is optimized to handle high bandwidth tasks like VoIP, streaming live sporting events (World Cup, Super Bowl, etc.), and watching HD content (Netflix, Hulu, etc.) from anywhere in the world.
NAT firewall protection – when connected to the network the NAT firewall will block unwanted incoming traffic to protect your system from outside attacks.
VPN clients – custom software for Windows and Mac.
Mobile apps – custom apps for iOS and Android devices.
VPN Server Locations
The IPVanish team manages a fast growing network with over 1,400+ VPN servers in 60+ countries around the world. Members have access to over 40,000 IP addresses. Switch between servers anytime with their custom client and mobile app. Here's a list of server locations sorted by region:
North America – Canada (Toronto, Vancouver), Mexico, and the United States (Ashburn, Atlanta, Chicago, Dallas, Las Vegas, Los Angeles, Miami, New York, Phoenix, San Jose, and Seattle).
Europe – Albania, Austria, Belarus, Belgium, Bulgaria, Croatia, Czech Republic, Denmark, Estonia, Finland, France, Germany (Dresden, Frankfurt), Greece, Hungary, Iceland, Ireland, Italy, Latvia, Lithuania, Luxembourg, Malta, Moldova, Netherlands (12 servers in Amsterdam), Norway, Poland, Portugal, Romania, Russia, Serbia, Slovak Republic, Slovenia, Spain, Sweden, Switzerland, Ukraine, and the United Kingdom (London, Manchester, and Nottingham).
Central/South America – Argentina, Brazil, Costa Rica, and Panama.
Asia – Hong Kong, India (Mumbai, New Delhi), Indonesia, Israel, Japan, Kazakhstan, Kyrgyzstan, Malaysia, Philippines, Saudi Arabia, Singapore, South Korea, Thailand, and Turkey.
Oceania – Australia and New Zealand
Africa – Egypt, South Africa, and Tunis
Security and Privacy
IPVanish uses 256-bit AES encryption to help secure your data. The VPN service supports OpenVPN, PPTP and L2TP protocols. Connect to the network using their custom Windows and Mac software. The service will also secure your mobile devices. They have custom apps for iOS and Android.
From a privacy standpoint IPVanish goes a step above most VPN companies. They are a logless VPN provider. Their no log policy means that you can freely use the IPVanish network without worrying about your activities being logged. That should comfort users looking for enhanced privacy.
Customer Support
You can count on help from technical support 24 hours a day, every day through a number of channels. IPVanish has live support on their site which is available Monday-Friday from 9:00am to 5:00pm EST. You can also fill out a support form on their site or email support with your question. IPVanish has a helpful FAQ section and a forum to help as well.
IPVanish VPN Speed Test
We run speed tests on a regular basis. As we completed our testing for our IPVanish review we found that the VPN service is consistently fast. The main reason they're faster than other leading VPNs is that IPVanish is a top tier provider. That gives them more control over network performance. Let's take a look at their speed test results:
IPVanish United States speed test – IPVanish is the fastest VPN provider we've tested in the US market and beyond. We were able to achieve speeds of 63.74 Mbps in the United States.
IPVanish Canada speed test – IPVanish has multiple Canadian servers. We connected from the eastern US and were able to achieve 61.83 Mbps download speed from their Toronto server.
IPVanish United Kingdom speed test – IPVanish is fast overseas as well. We connected from the US to test and still achieved 62.63 Mbps download speed from their server in London.
Testing outside the US – performance for other areas of Europe and beyond topped other leading VPN services.
IPVanish Video Review
VPN Client Software and Compatibility
IPVanish offers members a full line of VPN client software. They have developed a custom client for both Windows and Mac users. You can connect your mobile devices through their iOS and Android apps. You can install the client on as many systems as you'd like and connect with up to two devices at a time. They also support DD-WRT routers which allows you to protect your entire network with a single VPN account. Let's take a closer look at each of the clients IPVanish offers to members.
IPVanish Windows client in action
The IPVanish Windows client supports Windows 8, 7, Vista, and XP. Here are some of the key features of the IPVanish client:
Servers Locations – select any server location to connect in an easy to use map view.
Sort options – in the dashboard (list view) you can easily sort by city, country, server or response time.
Response time – sort the list by response time to find the fastest server for your current location.
Protocol selection – choose between PPTP, L2TP and OpenVPN protocols. When using OpenVPN you can select between TCP and UDP connections. I suggest you use UDP for the fastest speeds.
---
Client for Mac OS X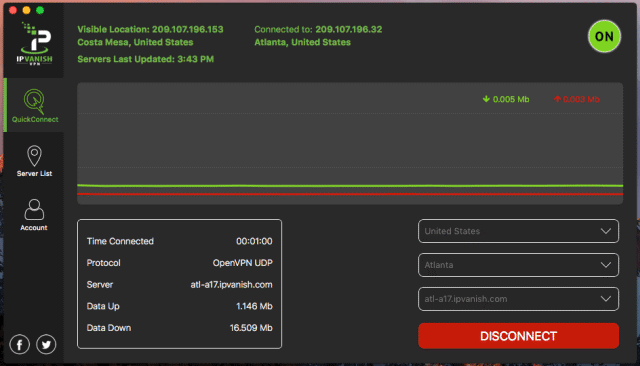 The IPVanish Mac client requires OS X 10.7 or later. The client fully supports Yosemite. Here are some of the key features of the IPVanish Mac client:
Servers Locations – select any server location to connect.
Sort options – sort by city, country, server or response time.
Response time – sort the list by response time to find the fastest server for your current location.
Protocol selection – choose between PPTP, L2TP and OpenVPN protocols.
---
Mobile App for iPhone & iPad
The IPVanish iPhone and iPad apps require iOS 8.0 or later. The app is optimized for iPhone 6 and iPhone 7. Here are some of the features in the IPVanish iOS app:
Single-swipe VPN connection – switch your VPN connection on/off with one swipe.
Visible IP address and server connection – you can see your public IP address before connecting to the IPVanish network. After you connect you can see your new IP address along with the server location.
Automatic connection – set the IPVanish app to automatically connect to their service when you access public WiFi networks.
Persistent connection – set your iPhone to stay connected when it goes into standby mode or you lock the screen.
---
Mobile App for Android Devices
The IPVanish app required Android 4.0.3 and up. It fully supports Lollipop devices. Here are some of the features of the IPVanish Android app:
Auto-reconnect – automatically reconnects to the VPN when your device wakes or you move between wifi connections.
Server list – select your desired server location from an on screen list.
Data usage – you can track your connection time, speed, download and upload data usage.
Tips for Using IPVanish
There are so many uses for a VPN like IPVanish that we wanted to end with some tips to help you select the best server location and protocol for different situations.
Secure your internet connection – if your primary goal is to secure your data and increase your online privacy then I suggest you connect using the OpenVPN protocol. For the best performance you will want to connect to a nearby server.
Unblock geo-blocked sites like Netflix – if your primary goal is to unblock popular online streaming sites like Netflix, Hulu and HBO Go then you will want to connect to a server in the United States. In the case of Netflix you can connect to a server in another country if you want to view a content library in another region. For BBC iPlayer and other British channels connect to a server in the UK. The same is true for channels in other countries. Connect to a VPN server in the country you wish to watch content in.
Watch live sporting events – this is one of my favorites. IPVanish is very well suited for watching live sporting events like the World Cup, Olympics, ICC Cricket, Super Bowl, and Grand Prix circuit. Connect to a server in the country you'd like to watch coverage in to enjoy the event.
IPVanish Review: Conclusion
Cheers to all of those who took the time to read through our entire review of IPVanish. If you skipped to the conclusion that's alright as well. I'll sum it up in a few words. IPVanish is hands down the best VPN service I've had the pleasure of testing and I've tested a lot over the years. Their top tier network gives them a speed advantage over other VPN services. Their no log policy ensures your activities aren't being logged while using the service. I highly recommend IPVanish. You can sign up through our IPVanish VPNSP Special page to save over 75% off. Enjoy unlimited VPN access from just $2.96 a month. All new members are covered by their 30 day money back guarantee.